Welcome at BergsTopp Legal
Excellent market and industry knowledge as well as efficient service are our strengths.
more

We at BergsTopp Legal were happy to assist on this outstanding transaction worth more than 300 m Euro, the single largest real estate transaction in Austria in 2021. The multi-tenant property is located only a stone throw away from the historic St. Stephen's Cathedral in the first district of Vienna and comprises 10,000 sqm of remarkable rental space. The property was sold by Österreichische Beamtenversicherung (ÖBV) by way of an asset-deal.
"Even though we supported the Vienna Medical Association in several real estate transactions so far, the acquisition of a single property with a volume of more than 300 million euro is nothing out of the ordinary for us either" stated Hannes Pachler, Partner of BergsTopp Legal.

BergsTopp Legal advises Invesco and FRAKTAL on the implementation of a last mile logistics project in Klagenfurt. The distribution center with 7,500 sqm for the last mile has been leased for 15 years. The property will be developed by Fraktal Development, a German-Austrian project developer specializing in logistics solutions for e-commerce companies. Completion of the building is planned for the second quarter of 2022. Through this transaction, Invesco further expands its real estate portfolio in Austria and strengthens its commitment in the logistics sector.

BergsTopp Legal provided transactional legal assistance to ERGO Versicherung on the acquisition of the Pannonia Shopping Park Neusiedl. The retail park comprises 8,300 sqm of rental area and 300 parking spaces. It sports a perfect location near Neusiedl am See and serves as an important local supplier for the entire region. The retail property was sold by Nuveen Real Estate, a subsidiary of the US-investment company Nuveen.

BergsTopp Legal acted as legal advisor to the Dental Chamber of Vienna in relation to the purchase of their new headquarter. The modern office building is located in the 6th Viennese district and comprises 6 floors with a total of approx. 2,000 sqm of net floor area and 11 parking spaces. The building fosters perfect access to public transportation and features a modern fit-out. Once the adaptation of the building has been completed, the Dental Chamber of Vienna plans to bundle all activities at this new location.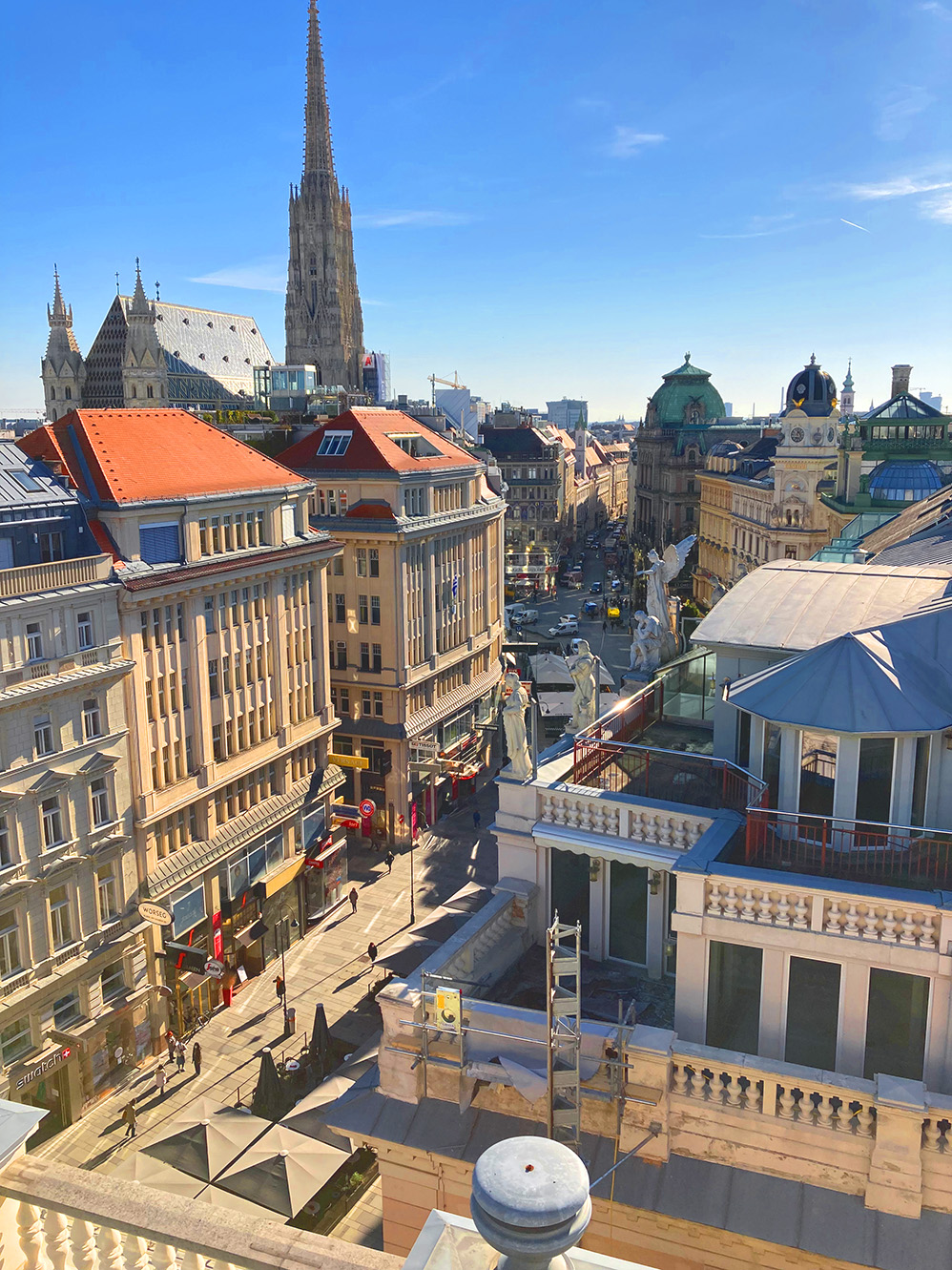 Our Vienna based law firm provides clients with legal advice and services from inspired attorneys with the training and experience of large law firm lawyers and the practical business know-how of in-house counsels.
Our lawyers have handled some of the largest and most complex real estate transactions accomplished in Austria to date. When it comes to the retail industry, we advise across all practice areas and for many years the BergsTopp Legal team has consistently negotiated high profile lease agreements for High Street names and retailers all over the world. Clients appreciate our approach to finding simple contractual solutions, which can be understood by all parties involved and implemented through economically reasonable means.
Staying lean and fostering a culture of efficiency while being innovative and open-minded are the key principles of all lawyers associated with BergsTopp Legal.
Success is always well negotiated
In any situation, at any age - nothing we have to prove in life and especially in business as often as negotiation skills. It is neither the fastest nor the greatest who win at the end of the day. It is those who lay the foundation for future success through targeted negotiation and strategic action. Only those who negotiate their deals cleverly get what they want.
Services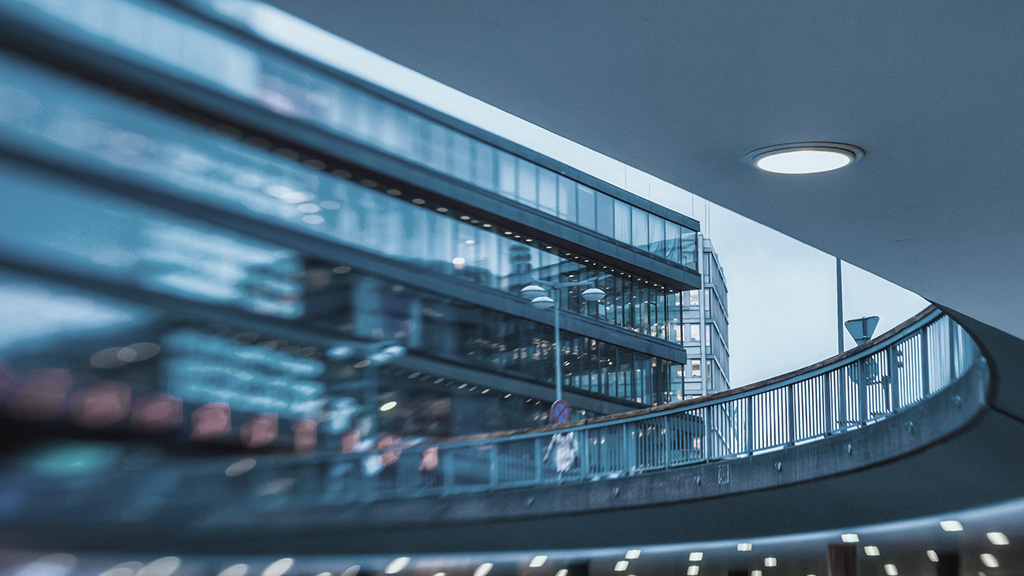 Professional Advice for Tenants and Landlords
Today, renting is much more than just agreeing on the monthly rent and the lease term but rather negotiating a complex agreement involving countless clauses and provisions.
Next to being known for securing the best terms and conditions for our clients, our team has earned a wide reputation in a large variety of real estate and leasing matters. With vast experience in acting for both landlords and tenants, we have a comprehensive understanding in managing retail premises and know-how to anticipate future operational requirements.
We support our clients in
the negotiation of head of terms and other pre-contractual agreements
the drafting and negotiation of tenancy and lease agreements including all ancillary documents
the termination of existing tenancy rights
questions regarding the level of fit-out of a property
subletting, transfer and relinquishment of tenancy rights
questions in connection with relocations, downsizings and portfolio management
Market knowledge and professional know-how guarantee the best possible economic results for our clients.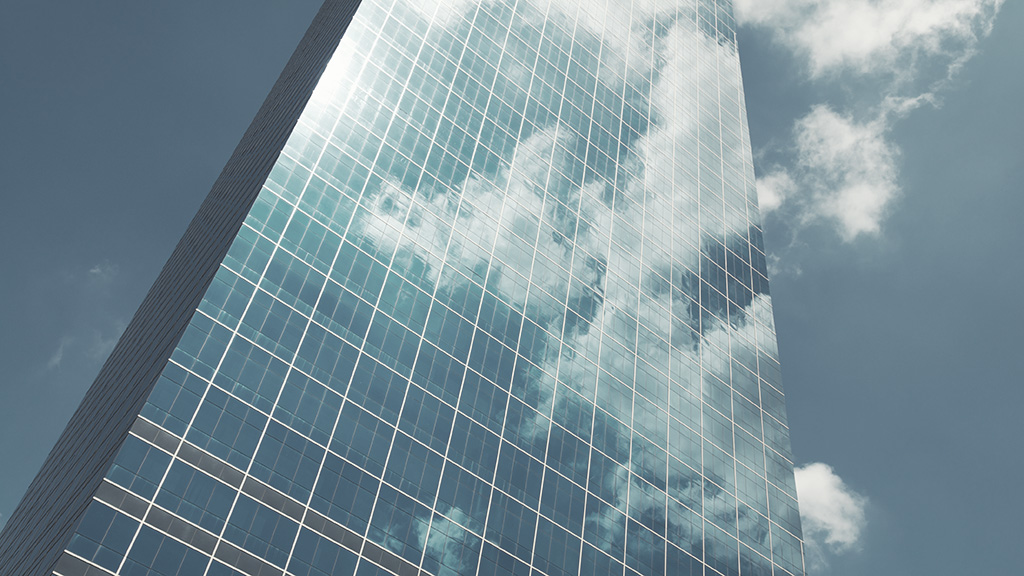 Professional Advice for Investors and Developers
Real estate transactions never come in easy today. Whether buying a simple flat or transferring an office tower, the team at BergsTopp Legal can help you manage the transaction and ensure that the sales process is successfully completed in line with your specified timeframe.
Our team is also increasingly active in the shopping and retail sector and has extensive experience in the development, management and transfer of this particular type of property.
We support our clients in
acquisitions and sales of real estate
due diligence reviews
formation and structuring of project companies
strategy and tactics in M&A processes
portfolio management and restructuring
Our many years of experience in the real estate sector enable us to handle any type of real estate transaction quickly and efficiently.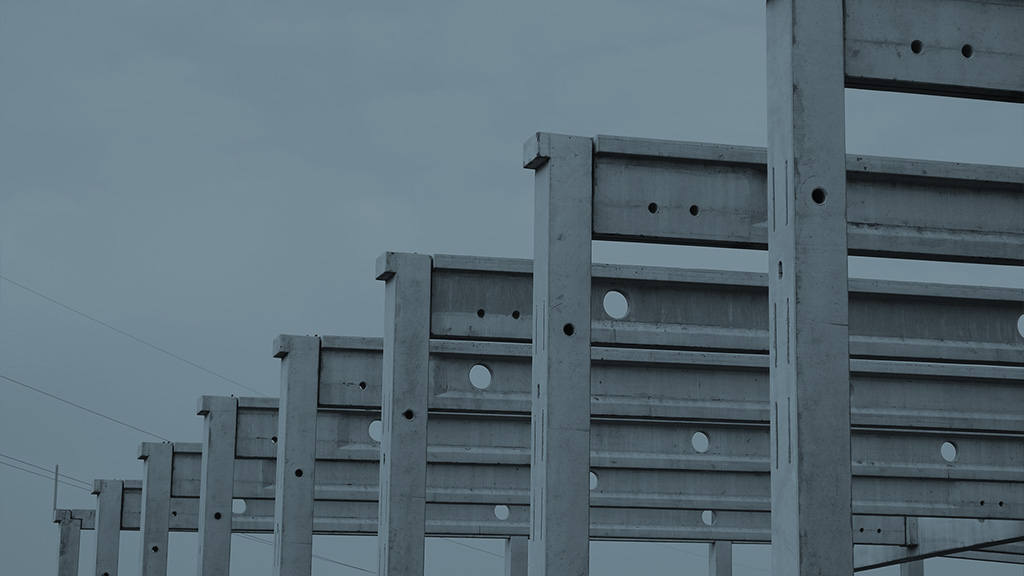 Professional Advice for Developers and Contractors
The construction industry is one of the most challenging legal areas to deal with, but we take a sporty and practical approach to it. We treat construction and development as a kind of its own, but within the context of a bigger commercial picture.
BergsTopp Legal supports you throughout the entire project development, starting with the acquisition of the property, through the course of the various construction phases, to the sale of the property. Our team has successfully handled numerous real estate development projects in different sectors and is used to delivering reasonable solutions on time for complex transactions.
We support our clients in
the project conception
land acquisitions
the drafting and negotiation of all relevant construction and development contracts
regional planning and zoning issues
project completion and property sales
We offer smart legal solutions that are industry-oriented and cost-effective.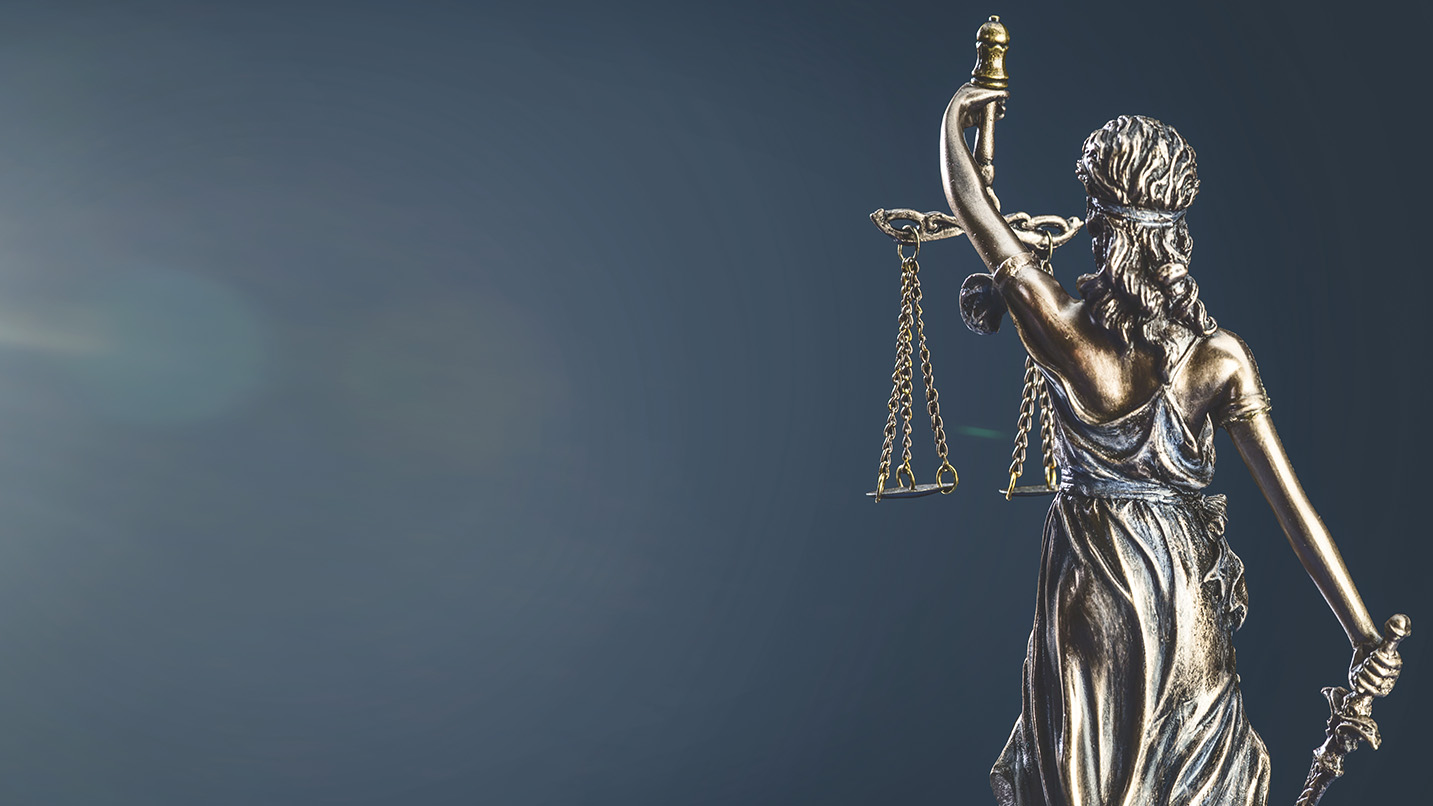 Professional Advice for Property Owners and Occupiers
There is only one good piece of advice on the subject of court proceedings: It is best to avoid them. But when litigation becomes unavoidable, it is time to call in reinforcements. BergsTopp Legal advises and assists a wide variety of clients in litigation, ranging from real estate developers, owners and hoteliers to retailers.
Our service portfolio includes issues such as rent reviews, disputes in connection with operating costs, recovery of arrears and outstanding rent, extensions of tenancy agreements, early termination rights, breaches of contract and termination of tenancy agreements.
We support our clients in
disputes over rent arrears and operating costs
review of termination rights and termination strategies
execution of ordinary contract terminations
fee-related issues in connection with tenancy agreements
subletting and subrogation rights
breaches of contract and contractual disputes
disputes relating to representations and warranties
Our team provides smart and practical support in court disputes based on an up-to-date knowledge of the sector.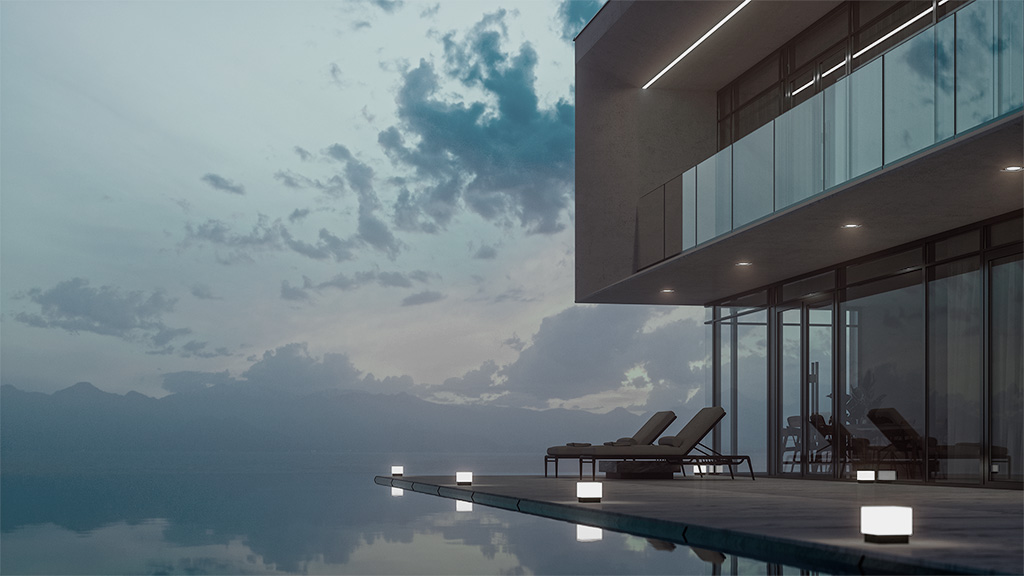 Professional Advice for Owners, Investors and Operators 
Tourism and the hotel industry have always been an important part of the Austrian economy, with constantly increasing investment volumes and turnover figures. Whether you are a financier, developer, investor, owner or operator, our team can advise you on all legal issues related to this important sector of the economy.
In addition to independent owners and local operators, we have also represented asset managers and investors in relation to hotels, fitness clubs, cinema chains and golf facilities, combining industry experience with relevant expertise across all asset classes.
We support our clients in
the preparation of management agreements, operating leases and franchising
the purchase and sale of assets and facilities
sale and lease-back constructions
the development and construction of relevant investment properties
issues relating to land use planning and zoning
portfolio analysis and strategy
subletting, transfer and termination of leases
Our team's practical and forward-looking advice guarantees tailor-made solutions and added economic value.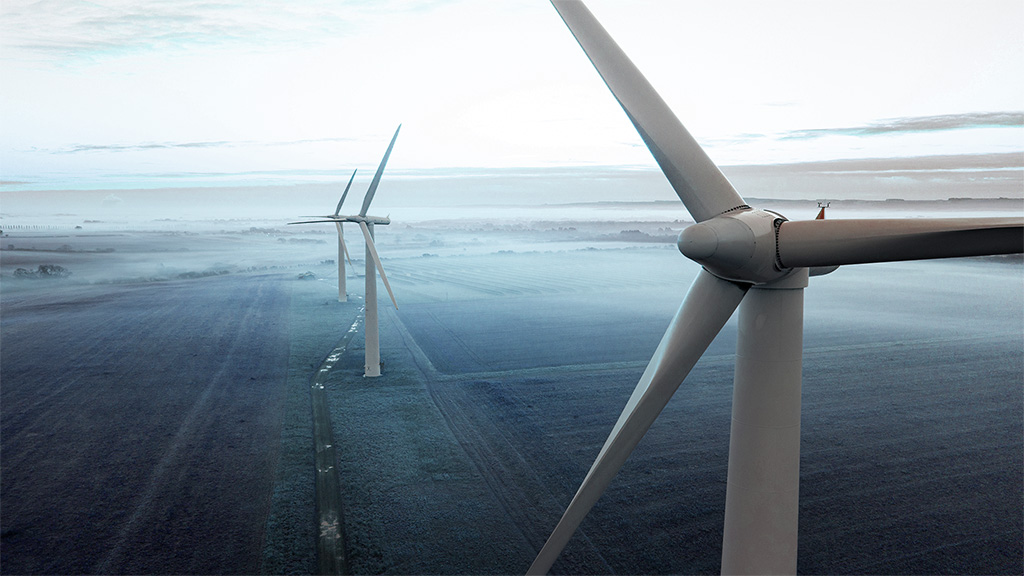 Professional Advice for Green Energy Providers
Many governments have taken up the fight against climate change and have put the development and promotion of alternative energies such as wind, solar or hydropower at the top of their list of priorities.
BergsTopp Legal is a pioneer in advising wind farm projects at every stage of development. From the first step to the last, our team of experts advises all stakeholders involved in the implementation of environmentally friendly energy projects.
We support our clients in
the preparation of land use agreements for wind farm projects
the establishment and structuring of project companies
the drafting of corresponding shareholder agreements
obtaining permits and licences
agreements with the respective communities
the purchase and sale of turbines
drafting and negotiating procurement, construction and planning contracts.
Our team is proud to have supported the development of alternative energies through its work from the very beginning and considers this area to be an essential part of its expertise.
Knowledge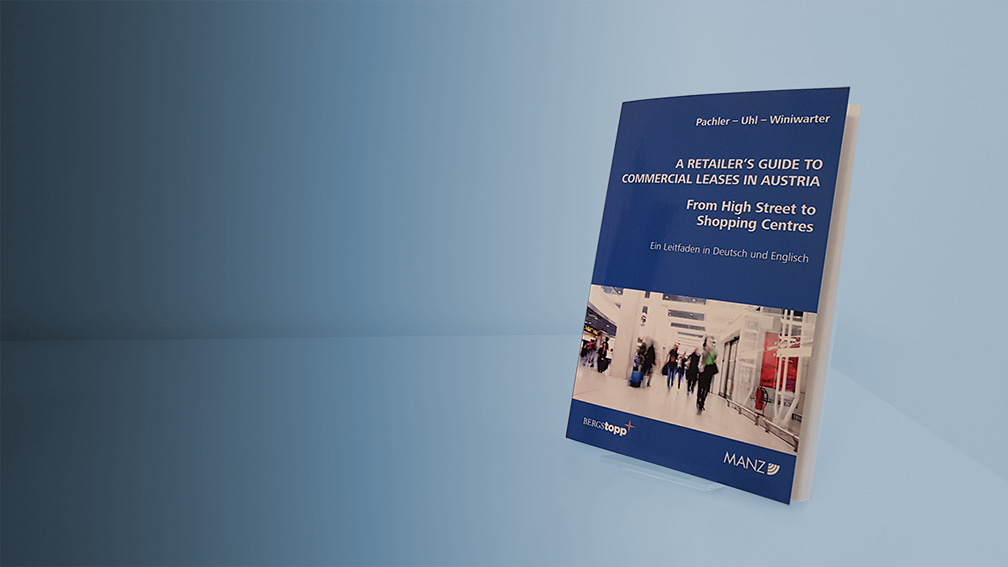 Our broad-based knowledge comes from our team's more than 30 years of international real estate, shopping center and retail experience. We would be pleased to share this knowledge with you. Thus, over the last few years, we have developed numerous publications, and it is important for us that we pass them on to you on your way to the top. Our most recent creation is the Retailer's Guide to Commercial Leases in Austria.
Along with the opening of the European domestic market in the early 1990's, a development occurred in the retail trade industry that many experts referred to as the internationalization of the retail trade industry. This development spread to Austria throughout the course of Austria's entry into the European Union. Since that time, numerous international retailers have entered the Austrian market, which is highly sought after due to its economic stability and, when compared to other international players, considered to have high purchasing power – and thus serves as a magnet for retailers focused on expansion.
Many international chains that dared to jump into the Austrian market have since become a solid part of the Austrian business landscape.
In order for you, too, to create a successful presence on the Austrian market, specialized preparations and plans are required. At the end of the day, only solid knowledge of conventional legal and market conditions can guarantee one's desired economic success. We have created a handbook for this in the Retailer's Guide to Commercial Leases in Austria, which covers the following subjects:
A general introduction to the Austrian shopping center market
Tips on how to best position shopping centers and retail parks
A short summary of Austrian tenancy law
A comprehensive description of the rules typically applied to retail lease contracts
A list of possible agreements prior to the conclusion of a lease contract and
An overview of the costs incurred when concluding a contract
The central theme and focus of the guide refer to the leasing of commercial premises, with all of the implications that doing so entails. The Retailer's Guide to Commercial Leases in Austria was written in both the English and German languages, so as to provide assistance to international retailers as well.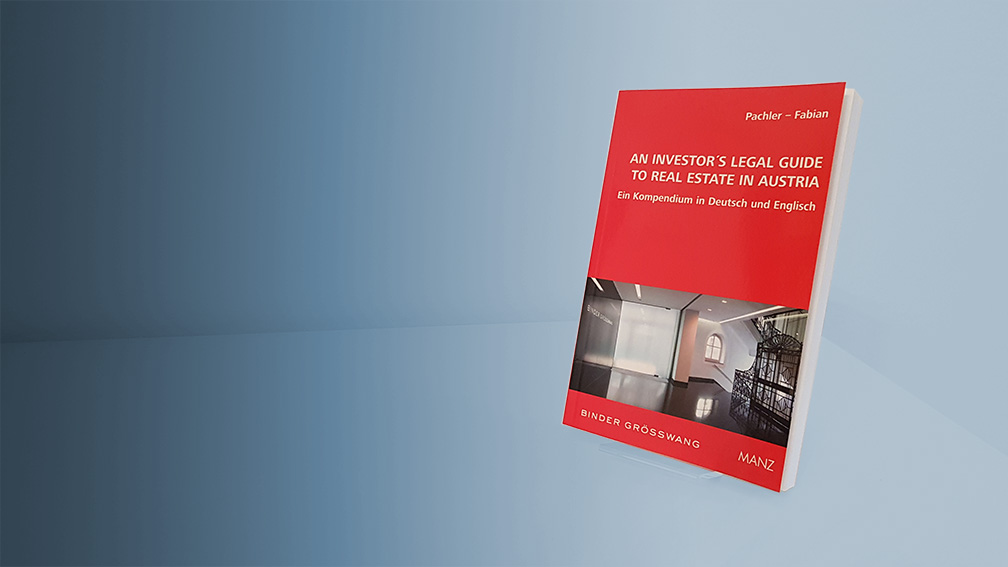 If you are planning to invest in real estate in Austria, we recommend referring to the Investor's Legal Guide to Real Estate in Austria.
The intensified level of investment activity by foreign investors and investment firms has contributed to a substantial increase of real estate transactions in Austria over the past ten years. This internationalization of the Austrian real estate market has resulted in real estate transactions becoming more complex and multifaceted, and the requirements of investors and their advisors have increased constantly.
The goal of this book is to provide international investors with a practical legal guide to real estate investments in Austria while at the same time sharpening their relevant problem-solving ability when it comes to handling transactions. The book includes a short synopsis of Austrian tenancy and lease law and addresses significant legal questions regarding the acquisition of real estate through an asset or share deal. In addition, it describes the most important elements of real estate financing as well as guarantee and liability issues arising in the course of a deal.
The central theme and focus of the guide lie in the acquisition of commercial real estate, and all of the implications associated with such transactions.
The Investor's Legal Guide to Real Estate in Austria is written in both the English and German languages and is thus suited to both German-speaking as well as international readers. The authors have placed a special focus on providing a simple and practice-oriented summary of the individual theme areas, so as to offer investors easy-to-understand legal guidance when it comes to making successful real estate investments within Austria.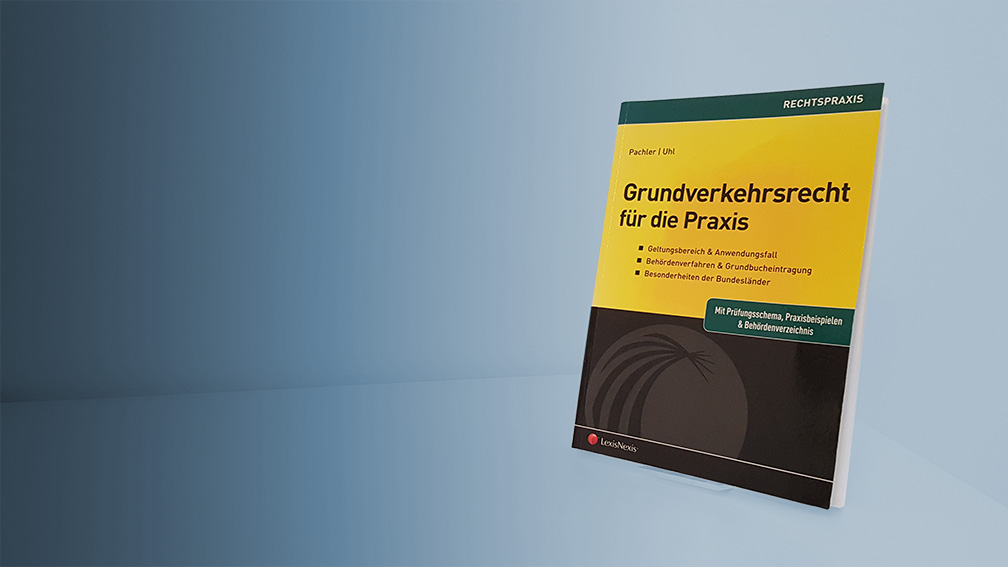 Legal practitioners very often have to face in their daily work that the different Austrian Land Transfer Acts of the nine federal states and their diverse regulations often lead to confusion and a lack of understanding.
This book aims at bringing the Austrian Land Transfer Law into a daily business context and presents the given regulations in an understandable manner for beginners as well as for advanced practitioners. With its special focus on non-agricultural land and its in-depth analysis of the weaknesses of the land transfer regulations in regards to nowadays international business practices the book closes an existing gap in the literature.
In a detailed but very readable manner the book illustrates the current regulations of each federal state and demonstrates with practical examples their application in an easy and solution-oriented manner.
The book is written in German language.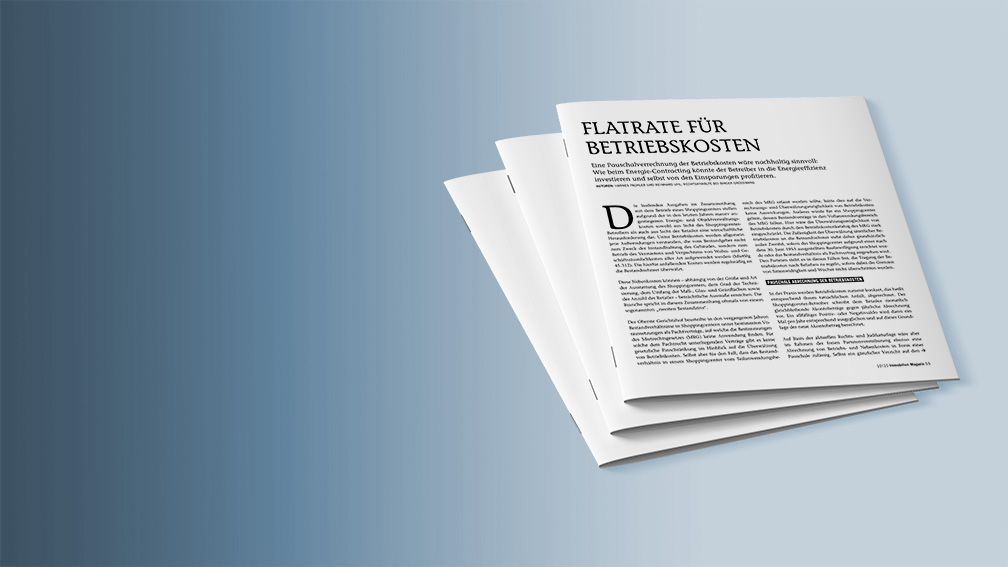 For landlords as well as for tenants of retail properties operating costs are an important factor in their business model. Following an innovative approach on this topic offers advantages on both sides. BergsTopp has excellent knowledge in this field and leads to new ways and opportunities in the treatment and calculation of operating costs.
If you are interested in alternative and leading approaches in the treatment of operating costs have a look at our publications which give a good insight in the potentials you probably haven't though of yet.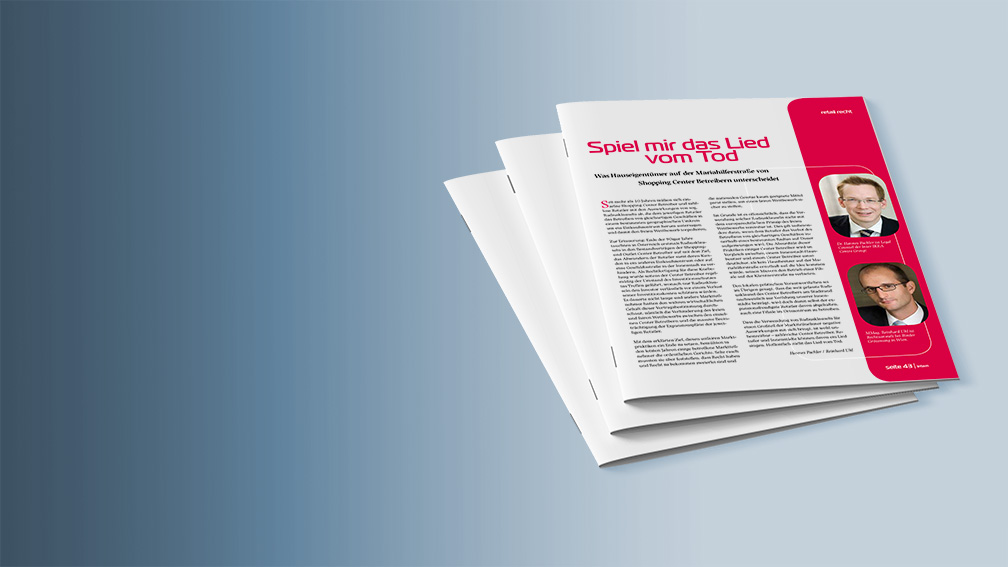 Since a few years so called Radius Clauses in retail leases have become common practice in Austria. Landlords argue that these clauses are necessary to protect their investment while on the retailer side such clauses often result in a limitation of their expansion possibilities and a loss of flexibility when it comes to short term adjustments to changing market conditions. Thus, these contractual clauses harm the principals of a free market and lead quickly to an unbalanced situation.
BergsTopp has in depth knowledge on all common aspects of Radius Clauses and can efficiently help you in structuring and negotiating this kind of disadvantageous clauses.
In case Radius Clauses have an impact on your business as well take a look at the following article or just contact us.
Experts for Retail and Real Estate
A good business idea alone has never brought an entrepreneur to the top. Only the consistent overcoming of the big and small obstacles of everyday business life ultimately leads to success. The team of BergsTopp Legal supports you in this task and takes care of your legal needs.
In doing so, we pursue a clear mission: we want to be more than a conventional law firm and want to stand out where others remain inconspicuous.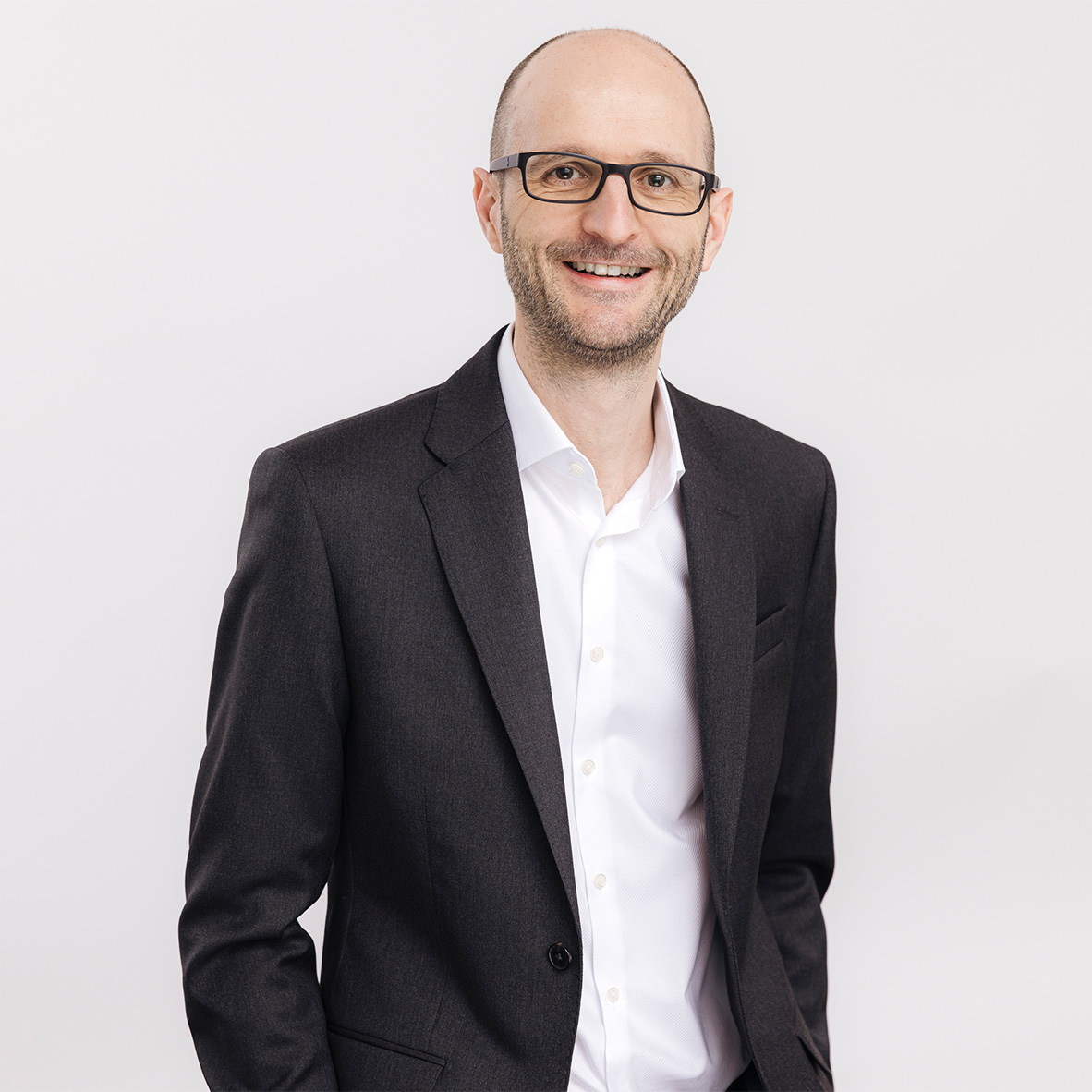 Key Areas
Tenancy and Lease Law
Real Estate Law
M&A Transactions
Real Estate Litigation

Reinhard advises national and international retailers and shopping centre operators on all aspects of tenancy and real estate law. Reinhard regularly demonstrates his expertise in negotiating and drafting tricky contracts and resolving complex legal issues.
Reinhard has been active as a real estate lawyer for many years and has led prominent real estate deals to a successful conclusion in the course of his work for well-known commercial law firms. In addition to transactional business and his work for real estate developers, Reinhard dedicates himself to the retail and shopping centre sector, where numerous well-known players regularly rely on his expertise. His client lists also comprises companies from the renewable energy sector, whom he supports in securing their sites for wind turbines and photovoltaic plants.
Reinhard is regarded as an advocate of simple contractual solutions that can be understood by all parties and implemented through economically reasonable means.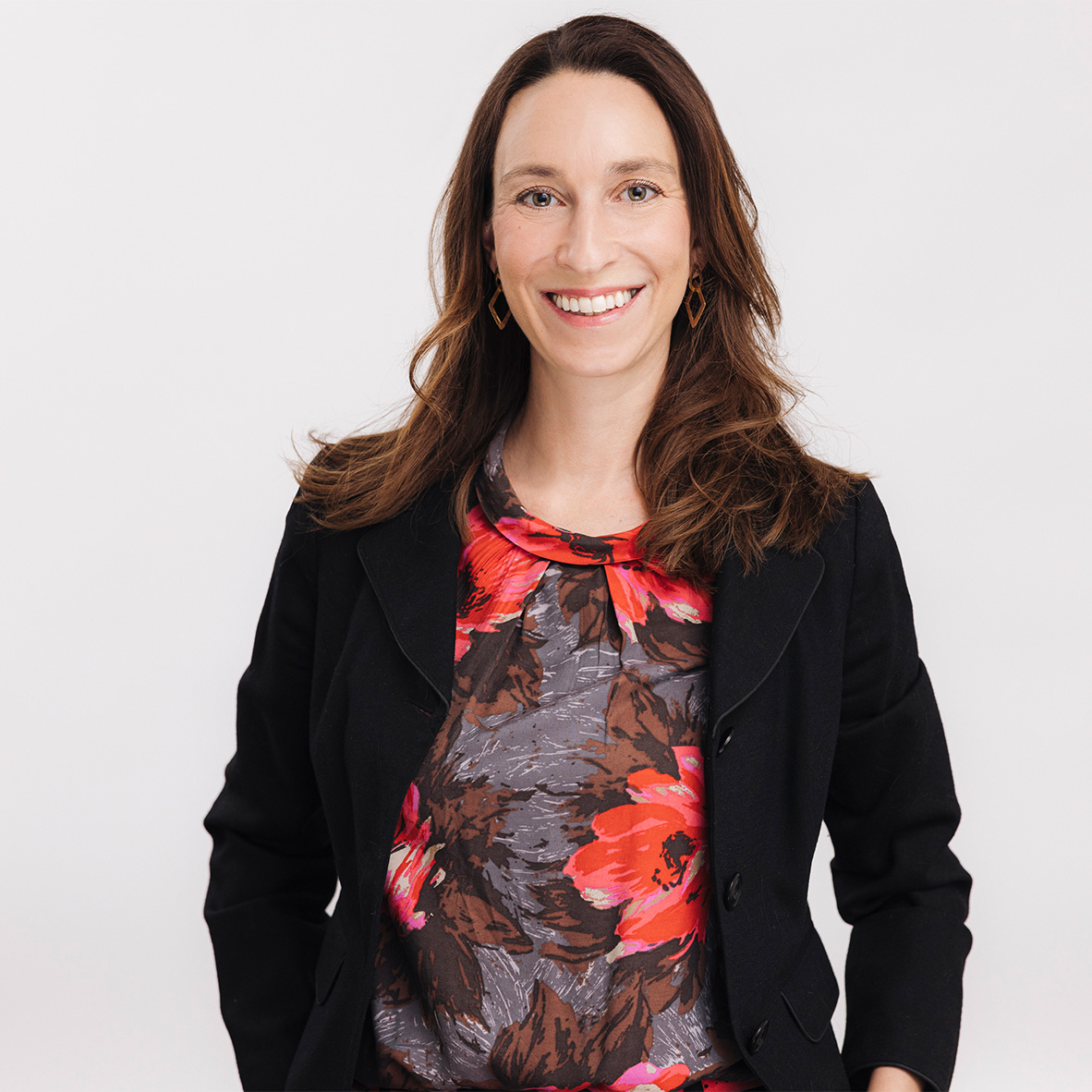 Key Areas
Distribution and Competition law
Real Estate Law
Real Estate Litigation

Esther is a specialist in out-of-court and in-court conflict resolution in real estate disputes as well as an expert in distribution and competition law. Clients appreciate the fact that Esther's legal solutions are strictly oriented towards commercial objectives and that she has an eye for the details that determine successful out-of-court conflict resolution or litigation success. The combination of know-how in real estate and in competition law also enables Esther to manage real estate projects at BergsTopp at the interface to sales consulting.
Esther works as a cooperation partner for BergsTopp Legal. She has more than 15 years of professional experience in the legal industry: she started as an associate in two large commercial law firms; after passing the bar exam with distinction, she worked first as a partner and then as an equity partner for a well-known commercial law firm before founding her own law firm and entering into the cooperation with BergsTopp Legal.
Esther is an external lecturer for competition law and compliance at the University of Applied Sciences Wr. Neustadt and the University of Applied Sciences Burgenland. She is also a regular lecturer for various law academies and has authored numerous publications on competition law and distribution law topics.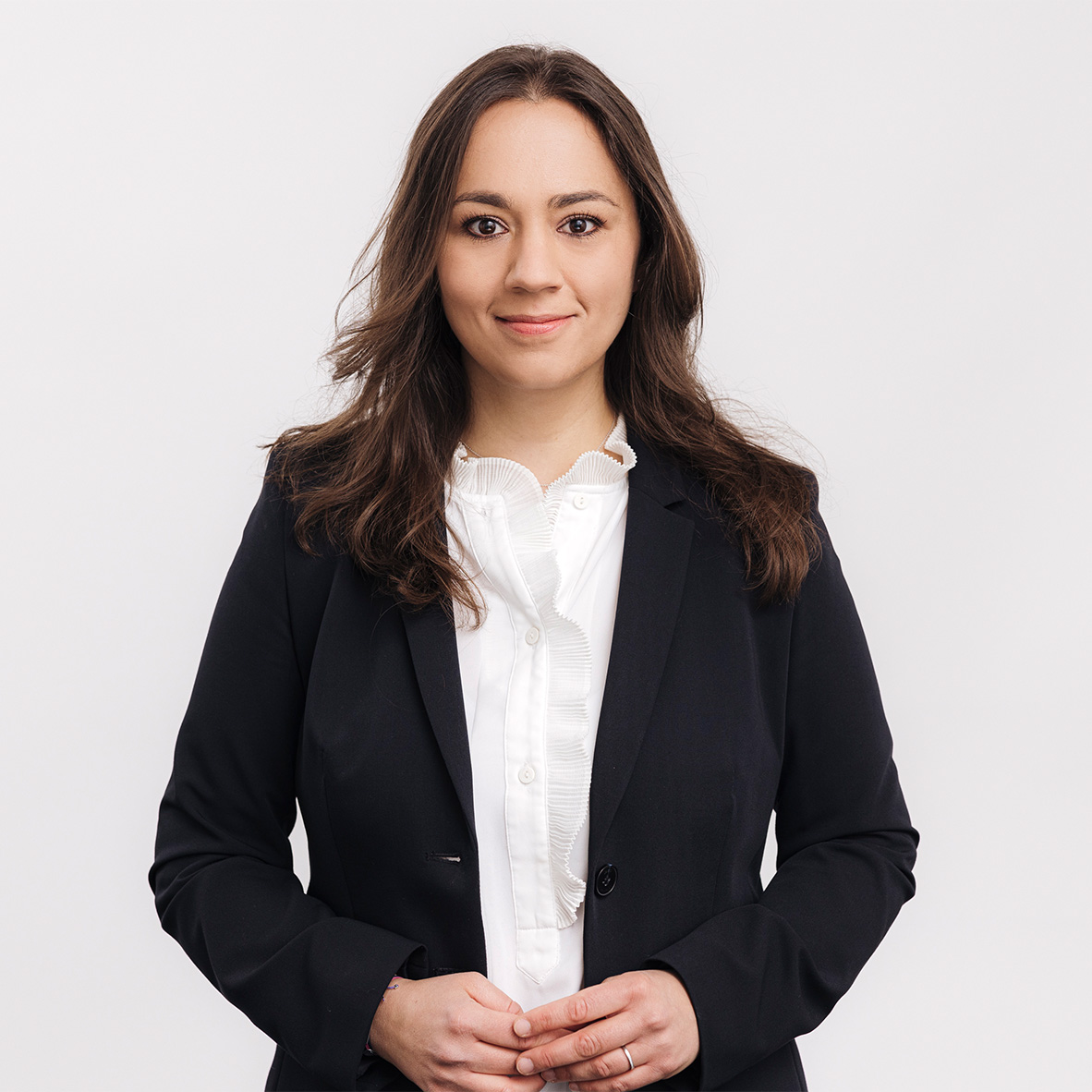 Key Areas
Real Estate Law
Contract Law
General Civil Law
Corporate Law

Bettina has excellent expertise in real estate law due to her education and long-standing work in renowned Viennese law firms. She advises companies and private individuals on the acquisition, development and sale of real estate and accompanies the entire execution of real estate projects.
The preparation of tailor-made lease contracts for residential and commercial properties as well as general contract drafting in numerous fields of law is also one of her main areas of expertise. In addition to her specialization in real estate law, Bettina advises clients in many areas of civil law and has many years of experience in representing clients before courts and administrative authorities.
Bettina is a self-employed lawyer and works as a cooperation partner for BergsTopp Legal.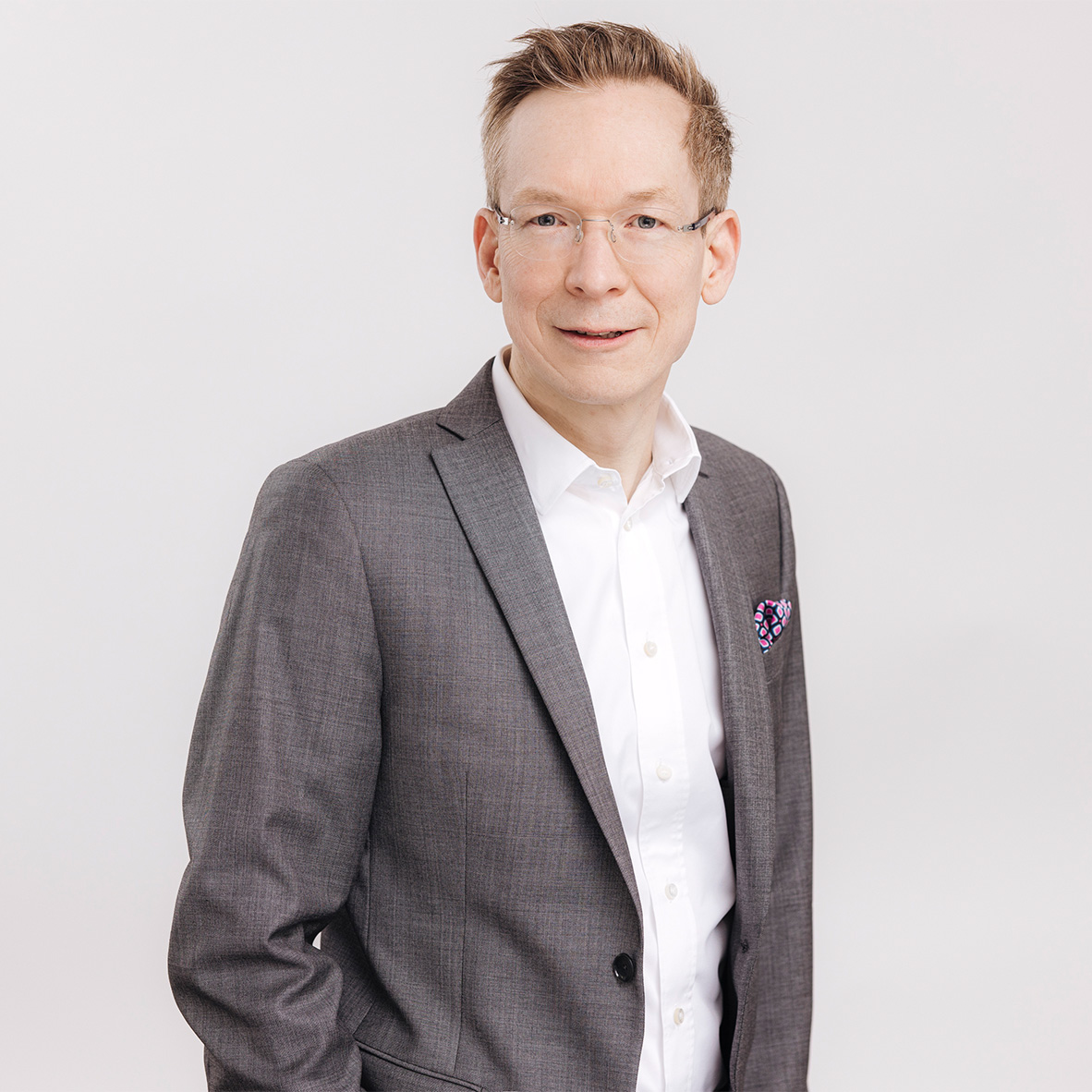 Key Areas
Tenancy and Lease Law
Real Estate Law
M&A Transactions
Real Estate Litigation

Hannes handles commercial real estate developments and investments. In addition to his expertise in transactional business, Hannes is a specialist in shopping centres and commercial tenancy law, acting for both tenants and landlords. He enjoys an excellent reputation in the real estate industry and is known for his practical approach to complex legal real estate issues.
Hannes has been a registered lawyer in Austria since 2006. Prior to joining BergsTopp Legal, he worked for Wolf Theiss and Binder Grösswang for many years, where he successfully brought real estate transactions with a total volume of almost two billion euros over the finish line. As legal counsel to the Inter IKEA Centre Group, he was responsible for the legal agendas in Central and South-Eastern Europe and also acted as transaction manager for the sale of the Austrian shopping centre portfolio. Hannes lectures regularly and has written numerous articles and several books in the areas of real estate and tenancy law.
Hannes has been listed as one of the leading legal advisors in real estate law by Chambers and Legal 500.
We at BergsTopp Legal believe in the spirit, energy, and ambition of entrepreneurs. We believe in individuals who dare to push the boundaries and redefine how business should be done; and we seek to grow and strengthen our team with new talents!
If you consider yourself a game-changer, an individual who could make a difference to our team, then drop us a note and get in contact with us. At BergsTopp Legal, we believe in you.
The first step on your way to the top – Contact us!
BergsTopp Legal
Pachler Uhl Rechtsanwälte GmbH
Mariahilfer Straße 62/35
A-1070 Vienna
Email: office@bergstopp.legal
Fax: +43 1 253 303 332 36